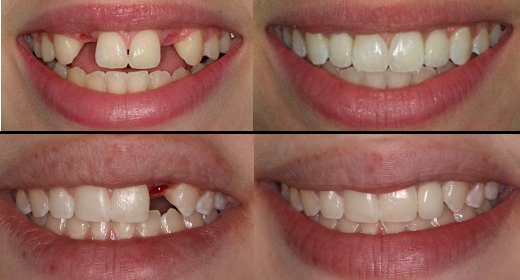 Dental implants are artificial tooth roots that provide a permanent base for fixed, replacement teeth. Compared to dentures, bridges and crowns, dental implants are a popular and effective long-term solution for people who suffer from missing teeth, failing teeth or chronic dental problems. Because they fit, feel and function like natural teeth, dental implants are quickly becoming the new standard in tooth replacement.
ADVATAGES OF DENTAL IMPLANTS
Improved appearance. Dental implants look and feel like your own teeth. And because they are designed to fuse with bone, they become permanent.
Improved speech. With poor-fitting dentures, the teeth can slip within the mouth causing you to mumble or slur your words. Dental implants allow you to speak without the worry that teeth might slip.
Improved comfort. Because they become part of you, implants eliminate the discomfort of removable dentures.
Easier eating. Sliding dentures can make chewing difficult. Dental implants function like your own teeth, allowing you to eat your favorite foods with confidence and without pain.
Improved self-esteem. Dental implants can give you back your smile and help you feel better about yourself.
What follow-up care is necessary after getting a dental implant?
Dental implants have the risk of developing a condition called "peri-implantitis." This refers to inflammation of the gum and bone surrounding the implant. The inflammation of the surrounding tissues is often due to excessive biting forces on the implant or bacterial infection. Peri-implantitis can result in the loss of an implant if left untreated. After getting a dental implant, routine maintenance care at home and follow-up at the dental office are essential in avoiding this condition. Home care involves routine brushing and flossing to keep food debris and plaque from sitting around the dental implant.
Queen Creek AZ, What are Dental Implants?
$slogan}

Free Consultation for New Online Customers

Free Consultation for New Online Customers